I realized I never posted my pictures of carving pumpkins. James had so much fun doing this and kept yelling, "eww...goop!"
Isaac had fun too but doesn't like to touch the goop.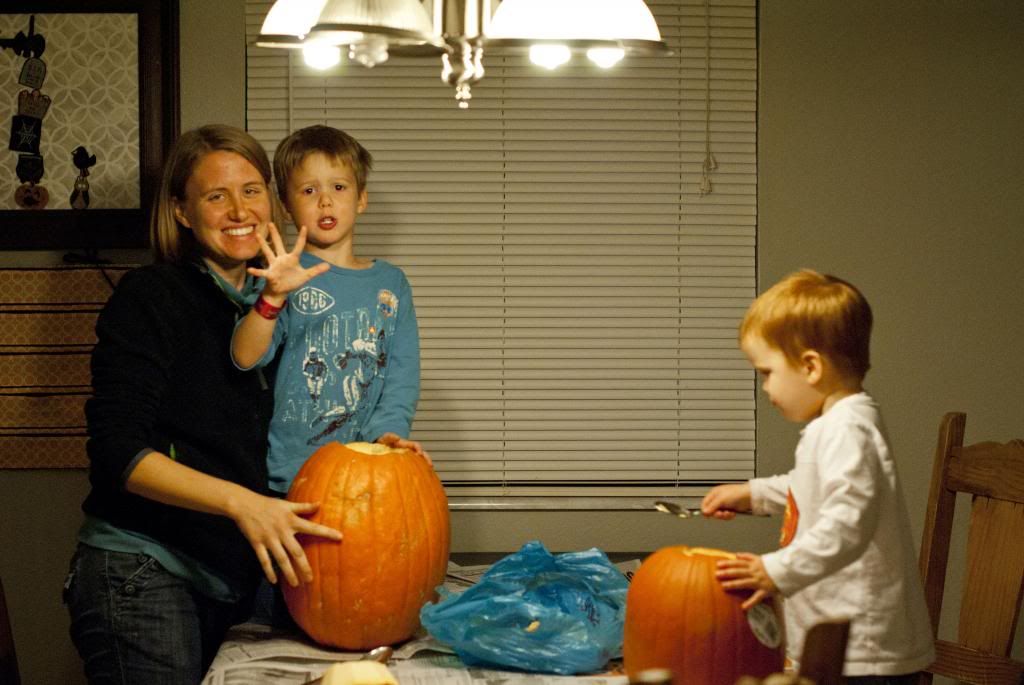 cute boys
On Halloween James and I got to go to the parade at the school. It was raining all day so the parade was down the halls--a lot of sitting around waiting but fun for the kids I think.
They had a party at school and then had an early release.
When Isaac got home we went to the library and got new books and then I let the kids watch some shows after that as a Halloween treat. Unlike last year Blake got home in time to go trick or treating with us.
It poured the whole time.
We were soaked by the end!
But we got so much candy, even just in our little apartment complex with the few people passing out candy.
What fun for our little train guy and pteranadon.
And in other news, it is finally time to announce that I am pregnant! The kids have been asking for almost two years if we could have another baby. Earlier this year we had a disappointing end to a pregnancy at about 11 weeks that was pretty tough on me. I don't think I will ever forget holding a tiny, bloody umbilical cord in my hand after going through labor in my bathroom. So our joy has been tempered with some worry this time but now I am 17 weeks and feeling the baby kick and we get to have the big ultrasound in 3 weeks!
Last Wednesday night Blake and I told the kids: "You know how we have been praying for a long time to have a baby? Well Heavenly Father answered our prayer and we are going to have a baby! My tummy is getting bigger!" The kids were so excited and Isaac got a big grin and James jumped down from his chair and started jumping up and down: "We have a baby! We have a baby!" And Isaac got down too and they both wanted to see my tummy and if it was getting bigger and then Isaac was jumping up and down and giving me hugs and saying, "I'm so excited to have a baby! Yes!" It was one of the funnest moments ever. The rest of the night was all about the baby. James kept asking, "Where is the baby?" In my tummy. "I want it to pop out!" Blake asked if it was going to be a boy or girl and they both said "girl!" I said it might be a boy, and we would love a boy too right? But Isaac said, "No, it has to be a girl. I will only love a girl." When James sat on my lap to read stories that night he said, "I squish the baby, mommy?" Sweetest! James kissed the baby goodnight. When I laid with Isaac in bed he said again, "I am so excited to have a baby!"
It's making me cry just writing about it. Yay!